Cupped corsetry with scraps
Posted on
I've been struggling to find inspration this year as i've been so busy with one thing or another, not least going VAT registered in April, swiftly followed by the horror of Brexit (for small retailers this has been a pricing and cashflow nightmare with the fluctuating currency - affecting all things from supplies to courier postage). SO... I've been a bit overwhelmed and 'pre-occuped' one might say. Luckily I have good friends who have been helping me through the creative doldrums in an attempt to get my juices flowing again. I am lucky!
And so one day upon opening the door to Sew Curvy HQ, a big parcel was on the mat, and it was from my good friend Izabela of Prior Attire. She very kindly sent me what I call a "mercy pack" containing one of her lovely and greatly sought after dressmakers notebooks and a bunch of silk fabric and lace offcuts - Izabela makes big dresses so her offcuts can sometimes be used to make several corsets!! Better than chocolates and wine any day.
There was quite a selection to choose from but in the end I chose to work with three of the fabrics first, the beaded lace, half a metre'ish of duchesse silk satin in gold, and a tiny scrap of beautiful silk brocade which probably cost asumidontwantothinkabout knowing Izabela. I love a scrap challenge at the best of times so I got to work thinking how best to use these tiny snippets of glory.
It soon became obvious that the small amount of brocade would best be used at the front of the corset, and whilst there was enough to do a complete front overbust panel, I wanted to make the corset a little bit more spectacular than that and I wanted to challenge myself, so I decided that cups were the way to go - I wanted to practice this area and here was the opportunity only there wasn't QUITE enough of the lovely brocade to do a full cup cover... imagination required, I dug into my 'retro files' for inspiration and came up with this 50's inspired cup design where the top and sides are framed with plainer fabric. The brocade is gathered at the sides of the cups, not because this is easier than making a separate cup pattern (which it is) but because it was the best use of the fabric. All hand basted in place with black silk thread, it was ready to hand stitch down finally and yes, you have to do it all by hand.
Dislcaimer: Proper cupped corsetry is quite difficult because you have to understand how a corset and a bra work to the best boobular advantages, however, you can cheat by using covered bust forms which is what i've done here - this is a good option for when you need to make a sample or practice techniques or for RTW corsetry where you dont need a perfect fit or where sizing is average. As usual in corsetry there are many many variables.
So once the cups and front panel were done I had just over half a metre of the silk duchess in gold to make the rest of the corset with. As this will be a sample corset shot on a model, it's a small size - 22" waist. And yes, you might notice the silk here is not gold nor particularly luxuriant looking as silk duchess satin should be. That's because I made a mistake. I decided to fuse the silk to some stiff canvas, but I fused said silk on the wrong side. Argh! There's no going back from a mistake like that but luckily the 'wrong' side is just as nice in it's own way - rich ivory instead of gold, and looks more like tafetta than duchess, but still... it looks lovely nevertheless.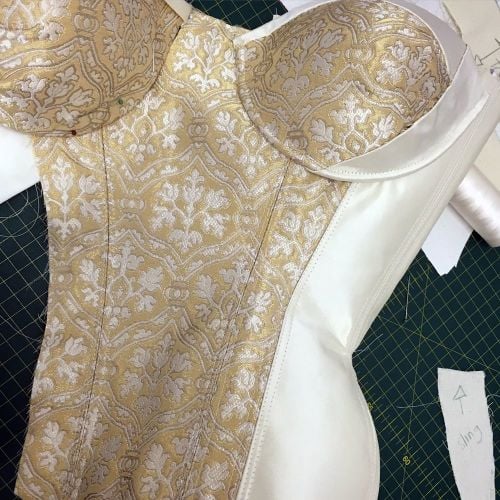 You can see the boning channels are quadruple stitched. This is a detail I learned from hours of examining this corset by Mr Pearl (for McQueen) at various museums over the last few years.
(unfortunately when I met Mr P himself last year, we had a bit of a party and I drunkenly gushed this revelation to him ... so embarrasing, hopefully he cant remember).
SO, now we have, standard corset pattern adapted, cups covered, brocade front panel done, silk fabric fused the wrong way, boning channels like Mr Pearl. All that is left to do is embellish it. Which I've nearly done. I've also added straps incase the cups aren't modest enough on their own (it's always difficult to tell when you're not making a bespoke item for an acutal person). At the moment it looks like this - I'm quite pleased and it has most certainly done it's job of revitalising my creative direction. In a big way. If you have a friend in the creative doldrums, dont give her chocolate or wine, give her scraps and a challenge.
And here I'll list the 'ingredients' of this corset incase you want to try a similar project yourself. Note - I had enough silk to do the binding but it is very narrow binding at 2.5cm! It must be hand sewn to get it in the right place neatly - observe:
Fabric scraps - I had half a metre'ish of silk satin, a tiny scrap of brocade and a tiny scrap of beaded lace. There is enough silk fabric to make a short halternetck strap (wide bias strips) and the bias binding (very narrow)
Cups to cover - I used Prym double underwired bust forms
Strength fabric - I used stiff cotton canvas - once it's fused to silk it's light and crisp but strong as steel
Boning channels made from stiff cotton canvas (unfused)
Silver eyelets with washers about 40 (should really have used gold in hindsight)
Spiral and flat steel boning (7mm regular spirals at front and sides, 6mm flat at back)
Double satin ribbon lacing in gold
Stiff wide busk for the front (12"), held down with 25mm cotton twill tape
Lining is soft coutil from my stash (also sewed 'inside out/back to front' because i'm a twit).
Have you ever made a corset (or anything else) from scraps and leftovers? And if so, did you find that it really lifted you out of a rut and turned you in new, sometimes unexpected directions?