Which boning should I use for corset making?
Posted on
Metal corsetry boning was invented in the 1800's by the Victorians when their preferred corset boning of choice, whalebone, was becoming scarce and expensive. The Victorians came up with two types of boning - both with ingenious features for very specific applications in corsetry and both of which are still in use today with no modern adaptation or equal.
First of all there is flat steel boning, sometimes known as 'corset flats' or 'spring steel'. There is a reason for this. Flat steel boning isn't made of any old metal - No. It is made from sprung steel which means that it is naturally very 'bouncy' and it is very very hard to bend. Try bending sprung steel and it will bounce right back into flatness. Why is this best for curvy corsetry? Because the way a corset works is by creating pressure and tension over the body to create the special hourglass shape that the Victorians and Edwardians favoured. If you didn't have sprung steel as boning, then the metal rods inside the corset would simply bend and buckle and would not hold a thing in place. Can you imagine how uncomfortable that would be and how awful it would look? Sprung steel on the other hand, only flexes in a vertical direction and will keep its shape and provide tension in the right places - as your corset pattern dictates - and because of this, you can use flat steel corset boning to help engineer your final outcome. For example, if you want to control a larger bust, or if you want to enhance a smaller bust, flat steel boning can be used in strategic places at the side of the bust to help acheive the desired effect by holding your assets firmly in place and pushing the flesh in a certain direction, unlike spiral steel boning which is much more flexible and will simply mould over curves.
I do not ever recommend pre-bending flat corset bones because doing this removes the tension in the steel which negates it's special properties. If you feel like you want to create very curvy drama or you are boning a corset with a very small waist, then use spiral steel boning instead - it will do the bending for you.
Flat steel boning is also used in hooped petticoats, steel dress cages and panniers and is also sprung so that it keeps it's nice round shape but it is not so thick as flat steel corset boning.
The Elliptical cage crinoline was the main support foundation for the later- and post-American Civil War period of 1863-1868. Called a "cage" because of the cage-like appearance created by the hoop wires and vertical support tapes, this type of crinoline offers maximum support capabilities for a perfect shape, combined with flexibility for comfortable wear
Spiral steel boning is very different to flat sprung steel boning. It is made from 2 springs flattened and then forced together to make one flat looking spring.
This type of corset boning is also sprung and is ingenious because it flexes in all directions and is therefore particularly good for the more curvy areas of the body, where you need a bit of moulding - over the breast, over the hips, perhaps over a fuller dierriere. Spiral steel boning is much 'softer' on the body and therefore wearers find it more comfortable. Where flat boning can be used to control and streamline, spiral boning can be used to enhance and create drama. Spiral steel is the most versatile type of corset boning, it comes in different widths and different thicknesses for all sorts of boning projects and ofcourse it isn't just used for corsetry, it is used in couture for boning dress foundations properly.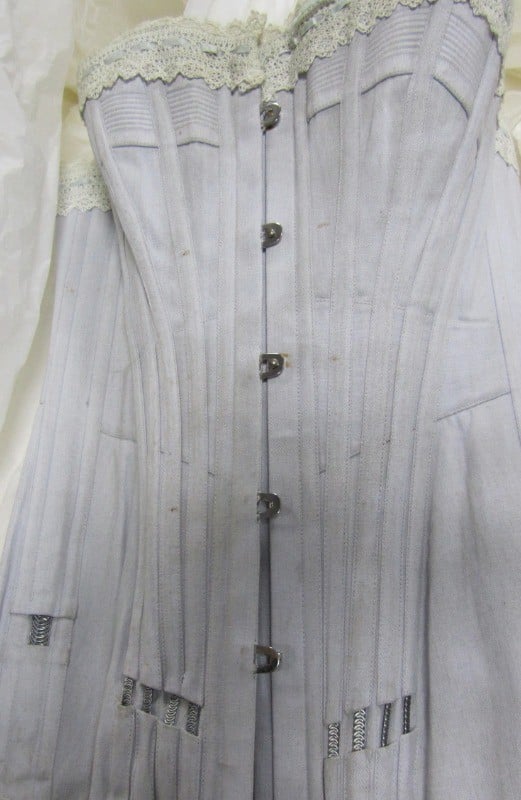 An antique corset from the famous Symington Collection - this corset is German and dates from 1903. It is made from grey coutil and has exposed 'watch spring' spiral steels which were removable to aid laundering.
In summary, boning can be used in many ways and many combinations. Sometimes it can even be used to even out an asymetry in the body. No body is the same, and it follows that no handmade custom or bespoke corset will be the same as another in terms of how it is boned, however each individual maker will have his or her preferred way of using the bones and this in turn will contribute to the over all look, feel and style of that maker.
The inside of a couture dress foundation from the Fashion Gallery at Snibston Discovery Centre, Leicestershire. (by kind permission). Dress foundations should be boned with metal boning as plastic boning corrupts over time and simply does not stand up to the job.
I therefore encourage everyone to experiment with boning and have put very precise descriptions in my product listings.
Here are some further resources for corset boning:
How to cut and tip spiral steel boning
How and why to use spiral steel boning
How to make a dress foundation

Using metal boning in a strapless dress pattern by Vogue